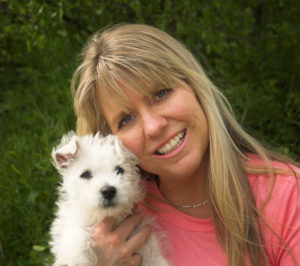 Sharon Bolt is a publicity expert and founder of Get Free Publicity Today. She has contributed to more than 40 different local and national newspapers, magazines, television and radio stations and is the co-author of 2 highly acclaimed books called 'Successful Women in Business' and 'Every Entrepreneurs Guide: Running Your Own Business.'
Sharon was featured in the BBC Documentary "Britain's Most Embarrassing Pets." and has had a regular slot on BBC Radio since 2008 where she answers the listeners' dog dilemmas.
Although she maintains her regular dog training slot on BBC Radio and media commitments, her focus nowadays is on teaching startups, business owners and entrepreneurs how to build a brand, increase visibility and generate sales by creating win-win situations with the media and cleverly using publicity.
Would you like a publicity and business expert to help write an article you're working on, or a leading authority to comment on a feature you're writing? Or maybe you'd like someone who really knows their stuff to educate and entertain your Radio and Podcast listeners or TV viewers with great content. If you're a journalist looking for a great interview, then Sharon is definitely the girl for you 🙂
Here's how to contact us:
Telephone: 01342 314232
Email: media@getfreepublicitytoday.com
CLICK HERE to go to Sharon's online media kit for her bio, downloadable low and high res photos, past media interviews, press releases and ready to go articles.
This is what the media say about Sharon Bolt…
Mandy de Souza – Producer BBC Radio Sussex and Surrey
"We originally did a regular phone-in with Sharon which proved immensely popular with our listeners, they found Sharon highly informative and helpful. Although we no longer have a regular slot with Sharon due to changes in the show format, we still contact her on a regular basis for one-off interviews. She has always been very approachable and helpful – always prompt to get back to us and flexible in her availability. She is clearly very knowledgeable in her field and is able to convey her expertise in a relaxed, easy to understand way. It's a pleasure to have her on air."
Jess Love – Producer BBC Radio Sussex and Surrey
"Sharon is a great guest, very flexible and always on hand at short notice. She speaks with authority about a broad range of subjects while managing to keep the tone relaxed and friendly. She sounds balanced and informative and we enjoy having her on the show"
Gordon Astley – Presenter BBC Southern Counties Radio
"I always look forward to having Sharon on my show. To be honest she makes my job so easy. As soon as we announce she is on the programme, the switchboard does its impression of Blackpool Illuminations. She is a natural communicator and our listeners trust her expertise."
The icing on the cake!
It's always nice to give people something of value for free so Sharon has written a report called 'How to write an attention grabbing press release that creates win-win situations with the media' for you to share with your audience for no cost. They can downloaded the freebie from this website: www.getfreepublicitytoday.com